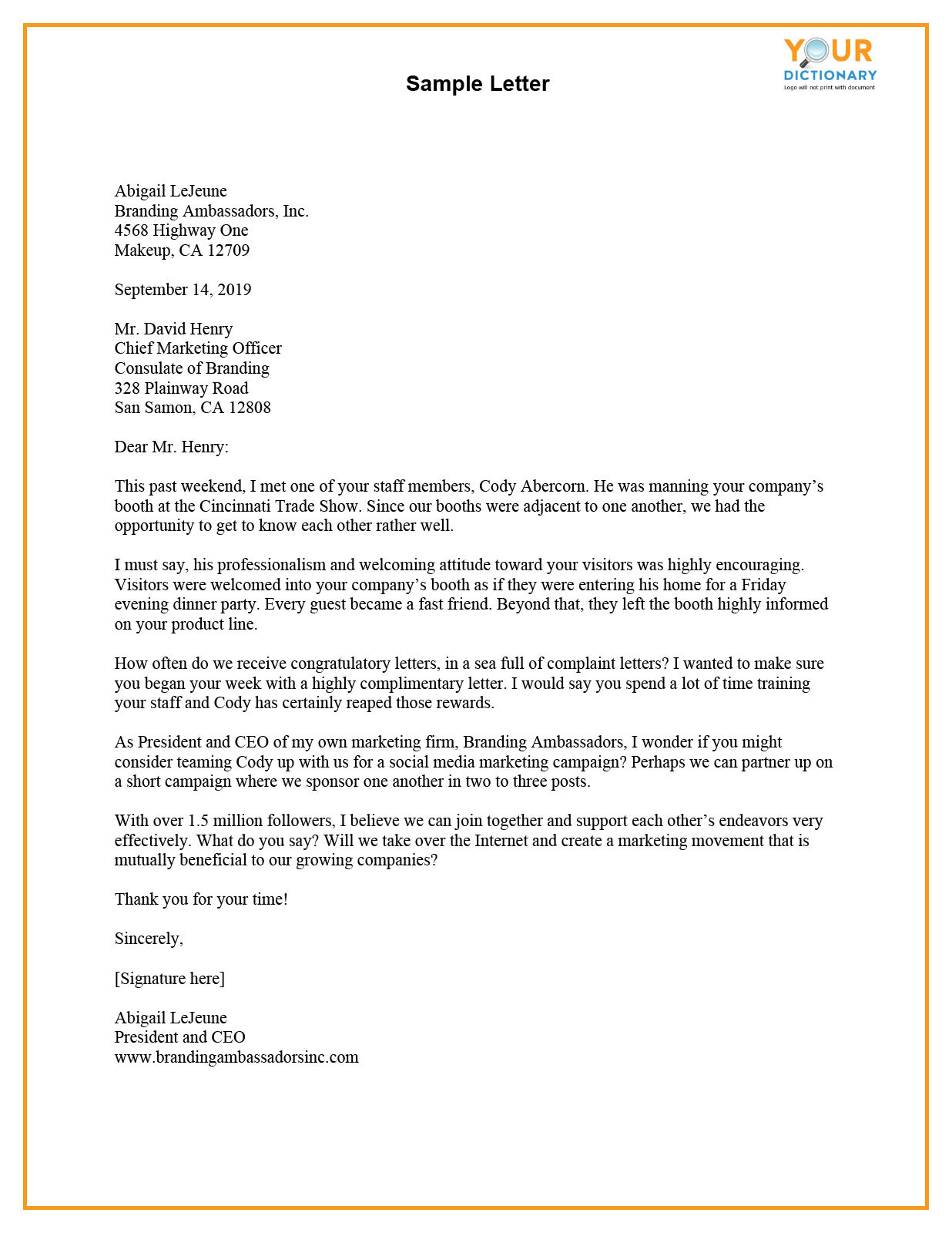 How to Write a Letter in Hassle-Free Steps (With Sample)
Knowing how to write a letter, whether business or personal, is a skill that everyone needs. Sometimes, these letters will be short, informal emails. Other times, they'll be highly polished for corporate correspondence. Learn how to write a letter step-by-step, and review a printable sample letter. Then, explore best practices for writing both formal and informal letters.
Let's tackle how to write a letter in proper order, from top to bottom. These steps are directed toward a formal letter, though recommended adjustments for informal letters are also included.
Sender's address – To start, place your full address — including your full name, street address, city, state, and zip code — in the upper left-hand corner. If you're not confident in writing addresses, learn how to write an address properly.
Date line – Skip a line and specify the date. Use the date the letter is being written.
Recipient's address – Skip a line and place the recipient's full address. For a formal letter, you'll need to include the company name, the recipient's name and title, and mailing address. For an informal, personal letter, there's no reason to include the company name or job title.
Greeting/salutation – Skip one more line to insert the greeting. This is called the salutation. In a formal letter, you use "Dear Mr./Ms./Mrs. Last Name:" Formal letters require a colon after the greeting, while informal letters take a comma. For an informal letter, it's fine to use the recipient's first name followed by a comma.
Body of letter – Skip a line and begin the letter. In the body of your letter, separate your thoughts into paragraphs. You never want to draft one big block of text. For each new set of thoughts or ideas, begin a new paragraph. Leave a blank line between paragraphs.
Complimentary close – Skip one of your final lines to include a complimentary close. The closing can be as simple as, "Sincerely," "Yours truly," "Regards," or similar. There should always be a comma after the word or phrase you use to close a letter, whether it is formal or informal.
Signature text – Skip three lines (where you'll insert your handwritten signature), and type your full name. For a formal letter, you should also include your job title on the next line.
Attachments – If you're including any attachments with your letter, skip one more line and type "Enclosure." If there's more than one attachment, indicate how many there are in parentheses, as in "Enclosures (4)."
Format Considerations for Different Types of Letters
Letters can be either informal or formal. Both types are similar in terms of format, but there are some differences. Informal or personal letters may come in the form of email, but the basic premise remains the same.
Informal/Personal Letter Best Practices
It is important to know how to write a letter of a personal nature. Personal letters are not as formal as business letters and can be handwritten or typed. The tone can be conversational, even using a bit of slang or colloquial terminology.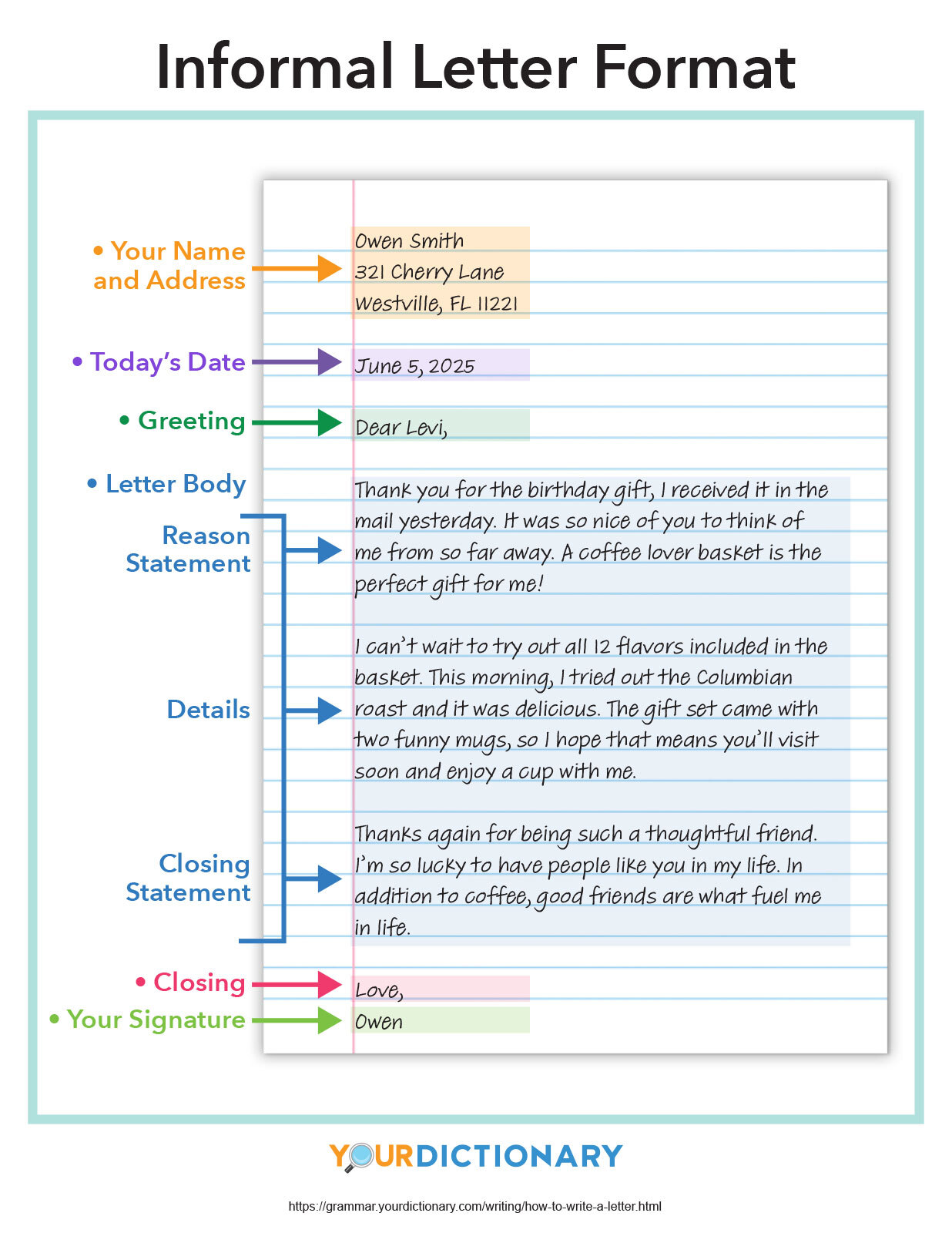 Formal Letter Best Practices
Formal letters follow a set pattern, as you can see in the example above. One type of formal letter that will be an important part of most people's lives is the cover letter. In a cover letter, as with all business letters, you'll need to use a standard formal letter format.
Follow a similar structure with all business letters and other formal letters, adapting as needed based on the purpose for which you are writing. If you're sending a formal letter in the body of an email, the addresses aren't necessary.
1. Know How to Properly Format, Address and Send a Letter
You might not think about it often, but when was the last time you hand wrote and mailed a letter? You'd be surprised how many people have never mailed out a note before in their lives! Contents of the envelop aside, the first thing the recipient of your thank you card is going to see when it gets to their mailbox is the packaging it comes in. You can never make a second first impression, but sending a clean, neat envelop is as close as you can get to one! Make sure that you have your name and your address (a return address is always helpful and important) in the upper left-hand corner, and "Company Name, ATTN: Recipient's Name, Recipient's Official Title, Company Address" legibly written in the center of the envelop. A stamp in the upper right- hand corner is a must, but make sure the stamp isn't crooked, ripped or out of season. A snowflake stamp just won't cut it in the middle of May!
Besides adding your signature at the end, there are lots of great ways to make your thank you letter stand out even beyond contents and format. I highly recommend investing in some notecard stationery sets. Try to find a pattern or style of card that is professional, but also unique. It can either be something that screams you or reflects back to the recipient. Bonus points if you can find a card that relates back to your conversation with the person getting the card!
The ability to send a properly formatted letter once the envelope has been opened shows that you've got the whole package. You know what a letter should look like and what it should say. Paying attention to little details such as spacing, a smooth seal, no ink smudges and straight label placement implies that if you are just as meticulous with the "little things," you can handle larger, pressing and more time sensitive topics when communicating as a trusted representative of your company.
2. Be Timely
What makes any thank you note a good one is being timely. I wouldn't wait more than the next day to send out a follow-up. People are always busy and have a lot going on; the longer you wait to say thanks, the greater the chances are that they might not remember your name or confuse you with someone else.
Being punctual means that both on paper and in person, you are creating a lasting impression in the mind of a future or former boss by letting their most recent memory of you be a kind thank you. A surefire way to secure that good impression is also to follow up your more traditional note with a thank you email as well, so the recipient knows right away that you are thinking of them, instead of letting time pass by without contacting them as the letter goes through the mail.
Resource:
https://grammar.yourdictionary.com/writing/how-to-write-a-letter.html
https://www.wayup.com/guide/community/contributor-handwritten-thank-you-note-wandy-ortiz/