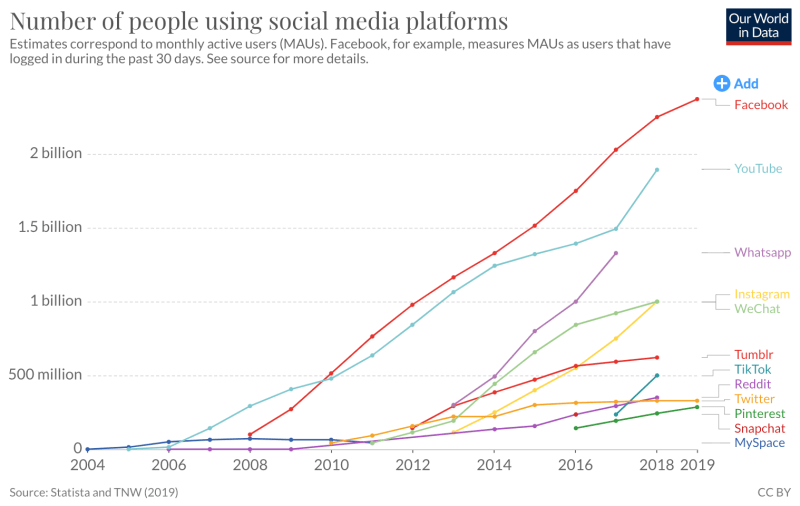 Let's start at the beginning
In the early 2000s, when social media was just beginning to take off with Facebook and YouTube, businesses were still spending much of their marketing budgets on traditional advertising and PR – and they relied on these strategies to drive brand awareness and sales revenue.
By 2010, marketing strategies were shifting – and ad spending on new media looked a lot different. As reported in VentureBeat at the time, eMarketer was projecting that US advertisers would spend an estimated 800.7 billion in ads on social networks, accounting for 6.7% of all online ad spending.
This infographic from Visual Capitalist also offers a great illustration of how social media spending began to rise around 2008, and quickly overtook traditional media including radio, newspapers, and magazines by the mid-2010s. You can see how this translated into advertising revenue for Facebook in this chart below from Business of Apps.
Digital Marketing Blog
Social media has become the most influential and important virtual space where the platform is not only used for social networking but is also a great way of digitally advertising your brand and your products.
Social media's power is commendable as you get to reach a large number of people within seconds of posting an ad, helping you reduce your costs, and making your ads reach out to your potential audience through these social media advertisements.
With the huge number of online users, which is almost 59% of the world's population, marketers must not miss out on their chance of marketing on these digital forums where they can reach all the maximum number of potential buyers compared with print or television media marketing.
Similar Post: What is Social Media Marketing?
10 Reasons Why Social Media Marketing Is Important For Your Business Or Brand
These social media channels help you attract the right customers with the right information at the right time and help you showcase your product or brand to potential customers at the right times.
Reason 1: You Get To Tell Your Story
Having an online presence as a business on any of the social media forums like Facebook or Instagram is a great way to interact with your audience and to really connect with them on a personal level.
Your customers will be able to know you and relate to your stories on a more personal level as well, and this is exactly what you need as an entrepreneur in this digitally connected world.
People who don't know you or your business might find it intriguing to know how you build up your business and, thus, through these posts, you can create brand awareness about how hard you worked to make your dreams come true.
👉 ✅ Want More Views On Facebook? Learn How To Get More Views On Facebook Here ✅ 👈
Reason 2: You Can Grow An Audience With A Small Budget
Once your social media marketing is strategized effectively, this would help you increase the traffic on your profiles on these forums, which will eventually lead them to your websites.
There are a number of businesses and bloggers who have spent not even a single dollar on a digital advertisement, but just with the help of great content and great interaction with their audience, they created a customer base who connected with them.
This means that even if you have a smaller budget for advertisements, you can help your business on these social networking forums, where through increased marketing, the process of digital growth for your brand quickens.
Reason 3: Stay Top Of Mind With The People Who Matter The Most
Business owners need to be vigilant on social media networks and need to create an image of their brand such that it is the first thing that comes to your customers' minds when they think about a certain product or service.
For a target audience with the potential of becoming buyers, it is important that you are connected with them through these social media forums, creating an impression on their minds so much that your business is on top of their minds whenever they search or think about buying a similar product.
Reason 4: Learn About Your Competitors
With all business profiles on all social media networks accessible to the public, this could be your chance as an entrepreneur to know your competitor better and understand the strategies that they are implementing to attract their audiences.
After carrying out this analysis of your competitor's profile and looking into all the queries asked by their audience, you will be able to incorporate those questions into your digital marketing strategy.
👉 ✅ Do You Want To Spy On Your Competitors? Learn How Here ✅ 👈
Reason 5: Can Build Custom Audiences
Businesses can access the different tools present on social media forums to see how many visitors were interested in the content that you shared, how many clicked any call to action, and how many purchased if any.
Stats like these help you build a customized audience where you get to target the people who seemed interested in your product but abandoned their carts right at the last minute.
☝️💥Tweet This 💥☝️
Getting your hands on such stats enables you as a business to target these potential customers who were almost about to become a buyer, but due to certain reasons were unable to complete the shopping process.
Through social media marketing, you will be able to show your brand content to such customers, reminding them how they needed/wanted your product, and now after seeing such ads, they would be reminded of their need/want for your product.
Building a custom audience gives you an opportunity to create customer satisfaction for these specific people who initially did not feel satisfied with your service and thus abandoned their cart.
This could be your chance to rectify all the errors and change your potential buyer's perspective about you by providing them a much better and giving them the satisfaction that they seek by purchasing a well-produced good or service.
Reason 6: Learn The Buying Patterns Of Your Ideal Customers
Learning these patterns helps you focus on the things that you are not following while designing content for your page, and therefore aiding you in becoming better at your digital marketing strategies to attract the right customers and meeting their demands.
How Can Businesses Nail Social Media Marketing?
First off, brands and marketers need to do some research and find the audience they need to "speak" to. Not marketing to the right audience results in loss of time, resources, and limited ROI.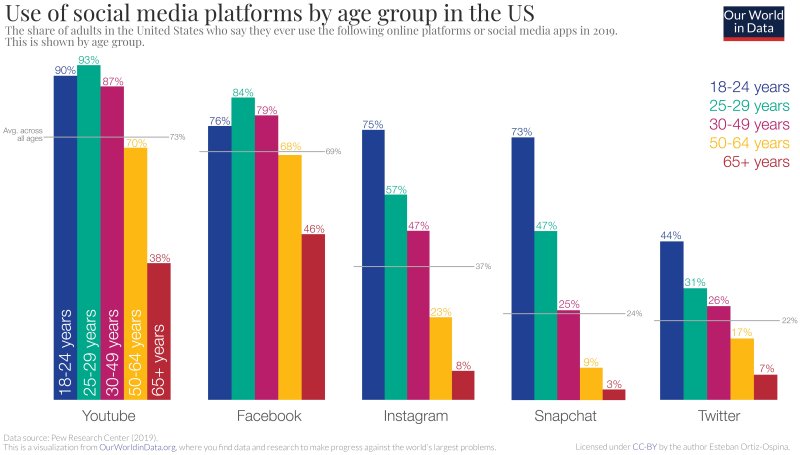 For example, if a brand's target audience is between 18 and 24, the brand ought to use Instagram marketing as the first social media marketing endeavor it is going to undertake, as evident by the graph above.
Creating a profile that corresponds with the brand tone and values the brand has set is of high importance. A consistent brand tone can boost recognition and trust between the prospects and the brand, thus increasing the emotional connection. What is more, a genuine and appropriate tone of voice can increase revenue.
Of course, that tone needs to be ever present when it comes to a brand's copy, content, and visuals. Consistency across platforms, visuals that correspond with the brand's colors and, of course, frequent posts are also crucial.
In reality, when used for business, social media profiles need to present an image that mentally – and practically – redirects the prospect to the website and make them think of the brand as a whole.
Of course, stunning visuals, colors that correspond with the brand's tone, and copy that attracts attention are not the elements that steal the show. A brand that is there to correspond with its prospects on a one-on-one basis, though, is.
Therefore, marketers, entrepreneurs, and solopreneurs need to remember that when utilizing the power of social media for business, they need to have a skilled social media team that responds to comments on the spot, creating a positive brand image.
Lastly, marketers need to make sure to share content consistently and according to a schedule. That way, they can create all the right conditions for prospects to anticipate their content.
This is not an easy task, but a brand can always repurpose old content, break old blog posts down to digestible bits and pieces that can be shared on social media by marketers and prospects alike, and link back to the brand's website and landing pages.
The Takeaway
It is wise to invest in AI technology, and marketers need to study their data and analytics, as those elements allow them to make informed and educated decisions and not just guesstimates.
AI, more specifically, can distinguish patterns that humans just cannot. This eventually creates segments that allow marketers to personalize their posts on a one-on-one basis and hyper-target their audience when it comes to content and paid ads.
High-performance, driven marketing actions stand out in the hectic world of social media for business. It takes a marketer with skill, proper education, and a knack for insightful and meaningful predictions to put everything together in a harmonious way.
Programs like PLNU's Evening MBA can create all the conditions through which a marketer will be able to create, curate, and target the audience that will be spot-on for their niche. A program that offers in-depth business knowledge, inspiration, and teaches all the tricks of the trade is all it takes for marketers to turn social media for business to their playground.
About the Author
Virginia Zacharaki is the Marketing Communications Associate of Moosend, a highly competitive Email Marketing, and Marketing Automation platform. Passionate about knowledge, art, teaching, and creating. Tends to live as a ballerina bookworm.
Sources:
https://emplifi.io/resources/blog/social-media-business-impact
https://www.digitalmarketing.org/blog/the-importance-of-social-media-marketing
https://www.pointloma.edu/resources/business-leadership/basics-social-media-businesses